I hate to admit it, but I don't brush Delia's teeth as often as I should. She hates it and she won't chew on most dental chews either. When we were invited to try Kissable Brushless Dental Solutions I was curious to give them a try.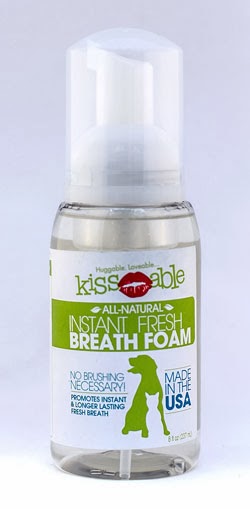 Kissable has introduced their new Instant Fresh Breath Foam and Oral Care Water Additive to make oral care easier for pups and their people. Both the Instant Fresh Breath Foam and Oral Care Water Additive have antibacterial and deodorizing properties that freshen breath and fight plaque build up, are all natural and are made in the USA.
Delia has been using the products for a few weeks now and I've noticed a big improvement in her breath. The Oral Care Water Additive is her favorite of the two. Just one tablespoon per 16 oz. of water, and that's it. I've noticed she's drinking more, too, which is good because she's had issues with not drinking enough water in the past.
The Instant Fresh Breath Foam is easy to dispense without a mess and really does instantly freshen breath. Delia isn't fond of me pumping the foam directly onto her gums and teeth, so I've pumped it into my hand and spread it on her gums with my finger.
Though not a substitute for routine veterinary dental care, Kissable Oral Care Water Additive and Instant Fresh Breath Foam are helpful tools to maintain dental health at home between veterinary visits.
How often do you brush your dogs teeth?
Disclaimer: We received a free bottle of Kissable Oral Care Additive and a bottle of Kissable Instant Fresh Breath Foam to try for an honest review. I was not financially compensated for my review and the opinions are my own.