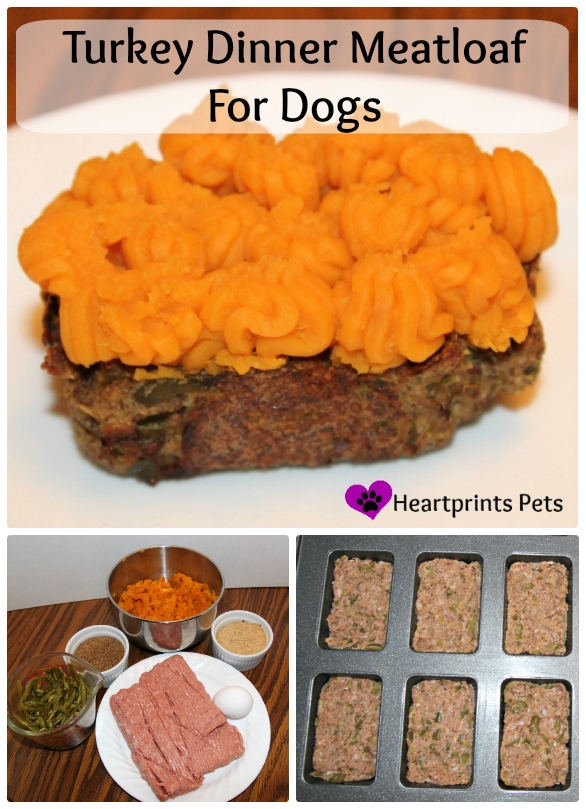 I love to cook for my dogs and to make special meals for them during the holidays or just because they are awesome. With Thanksgiving and Christmas coming up, I whipped up an easy-to-make turkey dinner meatloaf. They both loved it, so we thought we would share it with you!
Ingredients
Turkey Dinner Meatloaf for Dogs
Ingredients:
1 lb Ground Turkey
1 Cup Chopped Green Beans
6 Tbsp Ground Flax Seed
½ Cup of Unseasoned Breadcrumbs
1 Large Egg
2 Lg Steamed Mashed Sweet Potatoes
Instructions
Mix all ingredients, except the sweet potatoes.
Bake in oven at 350 degrees. (With the pan I used, 40 minutes was sufficient.)
I started with chopping the green beans, then mixing all of the ingredients in a mixing bowl. After mixing well, I put the mixture into a mini loaf pan. The mixture made 8 mini loaves.
http://heartprintspets.com/turkey-dinner-meatloaf-for-dogs/
After baking and cooling, the sweet potatoes can be added to the top of the loaf as an "icing." Chewy likes the sweet potato topping, but Delia doesn't, so I just leave the sweet potatoes off of her serving.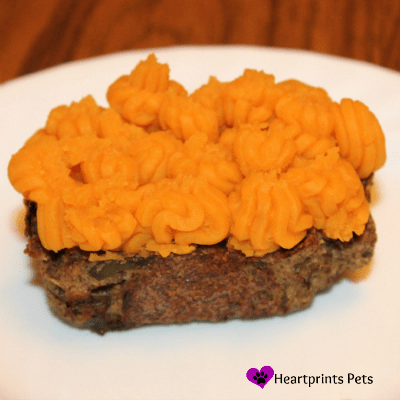 I hope your dogs enjoy this Turkey Dinner Meatloaf for Dogs!
*This recipe is intended to be given as a special treat for your dog, not as a replacement for your dog's food. Serve a portion appropriate to your dog's needs.